Countesthorpe Crematorium

Countesthorpe Crematorium Cremation services are 1 hour, but longer times can be arranged on request. They cater for any religious denominations as well as non-religious funeral services and celebrations of life.
Crematorium was opened in 2015.
Countesthorpe Crematorium The chapel can seat 100 people, but the area can be extended to accommodate up to 200; the service can be piped outside for up to 400 attendees. Music can be chosen from the Wesley Media System. Services can be live-streamed to family and friends who cannot attend. The chapel is equipped with disabled access and a hearing loop.
South Leicestershire Memorial also provides specialist services for Hindu and Sikh funerals; cremations can be witnessed through a glass wall and 2-hour services for open coffins can also be arranged. The chapel features the relevant symbols and prayer books for funerals in these faiths and the courtyard is also available for a second Uthamnu service.
The memorial park provides a wide range of options for commemoration, from traditional headstones, natural burial of ashes, and memorial benches to remembrance roses. Memorial plaques and vases can also be installed in the park and the name of your loved one can be entered in the Book of Remembrance.
Attended or unattended scattering of ashes can be arranged, and aluminium urns and keepsakes, with the option of a laser-engraved image of your loved one, can be purchased.
South Leicestershire Memorial Park and Crematorium provide substantial on-site parking and toilet facilities.
Find South Leicestershire Memorial Park and Crematorium
Foston Road, Countesthorpe, Leicestershire, LE8 5QP
Location Map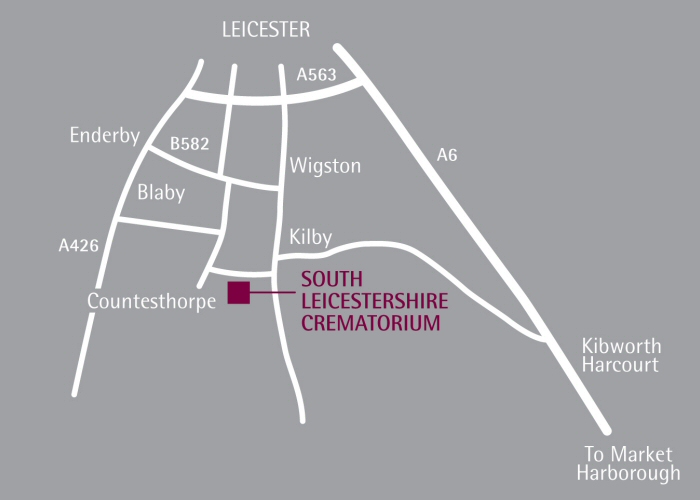 Leicester's Lady Funeral Director In Blaby
We Are Independent Funeral Directors serving the local community of Leicester and the whole of Leicestershire.
Samantha is the first point of Call, 0116 2788 868 - 24 hours a day, and will gently help lead you through the whole process.
A WOMAN'S UNDERSTANDING CAN MAKE ALL THE DIFFERENCE TO THE PRECIOUS MEMORIES YOUR FAMILY WILL HAVE FOREVER."
Bay Tree Funeral Directors - Blaby
| | |
| --- | --- |
| Monday | 24 Hours |
| Tuesday | 24 Hours |
| Wednesday | 24 Hours |
| Thursday | 24 Hours |
| Friday | 24 Hours |
| Saturday | 24 Hours |
| Sunday | 24 Hours |
bay tree funeral directors - Barwell
| | |
| --- | --- |
| Monday | 24 HOURS |
| Tuesday | 24 HOURS |
| Wednesday | 24 HOURS |
| Thursday | 24 HOURS |
| Friday | 24 HOURS |
| Saturday | 24 HOURS |
| Sunday | 24 HOURS |
Funeral arrangements handled by our team are very affordable