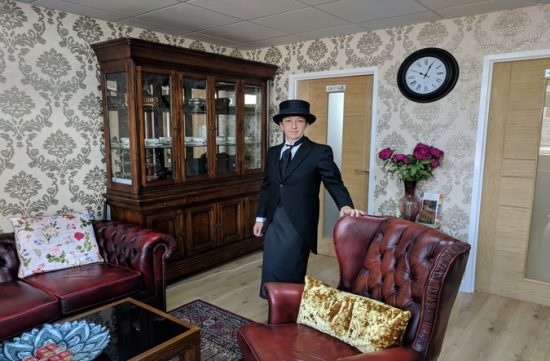 Samantha Ward is an independent funeral director who prides herself on taking a non-traditional approach without jeopardising the solemnity of the occasion, Bay Tree Funerals, offers a careful and considerate approach to funeral direction that really listens to the needs of the family.
What professional funeral services do you offer?
From the first call to going to the hospital or home to bring your loved one into my care. I will speak to the family and help to organise registration of the death certificate and get the correct documents in place. We will then have our celebrant and myself to meet with the family and get a feel for the person who has passed away to see if they had any wishes, we will speak to the family and friends and go through different funerals, i.e. direct cremation without service or a burial or a cremation with a service if the family and friends ask for any special requirements we will meet their needs to make the day a celebration of the life of their loved one who has passed away.
We will arrange the service and transport, i.e.  hearse and limousines and deal with the floral request to obituaries in the newspaper any orders of service we will print them for you and charity donations will be collected after the service to a charity of your choice or a favorite charity of your loved one. We can  do a book of remembrance or or attendance cards we will organise music for the service and any special requests of certain songs we can help you with a caterer or venue to bring your family and friends together to celebrate their loved ones life after the service.
Whatever the requests for any funeral we will be part of we will try our up-most best to make it happen then we will contact you a few days later after we have collected your loved ones ashes. If you're ready we can speak about doing a burial / interment for your loved ones ashes or you can keep them at home or scatter their ashes or we can look after your loved one's ashes until you are ready. We can also offer a second service if you want us there for scattering the ashes or internment for burial we will guide you through the headstone process and help you with lettering, sizes and choices of different headstones.
Do your services cater for those with certain beliefs?
Funeral arrangements will seem like a never-ending list of to do-s. As soon as one task is completed another one arrives that you cannot overlook. Which all must be diligent to achieved thoroughly despite this short time to arrange the funeral for the family that are dealing with a lot of grief.
The practicalities of death do not sit well with the raw emotions of loss.
There is all different types of beliefs and religions and special requests, it doesn't matter how different it seems to any other funeral. We will strive to achieve all with the greatest dignity and respect and professionalism for the family on the day whatever their wishes are
What separates your funeral services to its competitors?
Funeral services have become more competitive over time with the big industrial service companies, to the more personal independent family run services.
Bay Tree Funerals is an independent family run funeral home and we are constantly striving to accomplish a greater funeral at an affordable price. For the family with a lady in charge of caring for your loved one, from the first call to the final day with a caring and loving approach a lady funeral director is here to offer you support and caring for you as well as your loved one in this time of need.
We are here through it all to fully support you which is why a lady funeral director collects them at the time of deceased then looks after the deceased. Washes them, gets them dressed, does their hair, puts their makeup on in a way that is needed at a independent family funeral company. The family will feel reassured and safe knowing there loved one is fully cared for by the funeral director.