The most memorable funerals are those that are truly unique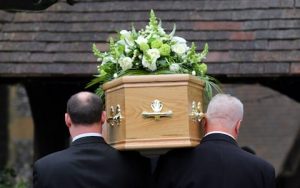 We think a good funeral is the transformation of an otherwise sombre occasion into a joyous thanksgiving of life. It is a celebration of your loved one's unique personality leaving family and friends with memories that will always be cherished. It is a final act of love that will live on in people's hearts.
The coffin is always the focal point of the funeral. Families have a wide choice from a traditional wood coffin to a more natural and softer-looking coffin which has been made in the most environmentally friendly way and which can be decorated with flowers and garlands.
The funeral service should be highly personal incorporating those unique stories, songs and experiences that defined the person who has passed away. Time should be allowed for the family to share memories, anecdotes, and special moments that happened during the life of the deceased.
Whether a funeral or a memorial service, music can play a crucial role in creating the mood for the occasion and leaving a goodbye message – whether it be funny, sad, joyful or loving, people listen intently to music at a funeral. Choose a piece of music that has a special meaning to you. For a truly memorable funeral a soloist, harpist, a group of musicians, a jazz band or a traditional piper can be provided.
The personality and character and all the things that the person treasured such as music, hobbies, interests, poems, colours, beliefs and values should all be included in the ceremony. Our experience has shown that small gestures can also improve a funeral and make it more personal and heartfelt.
A good funeral is where you are given full information about all aspects of the funeral so that you can make the right choices. We have also found that family and friends becoming personally involved improves the funeral and helps in the grieving process, giving them a greater understanding of the meaning of their loss.
We can offer many suggestions to help you create a unique and memorable funeral. please contact us on 0116 2788868 Bay Tree funeral directors Leicester